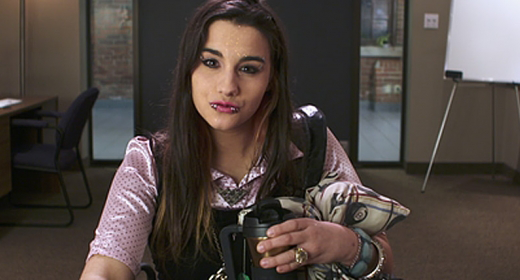 Hi Everyone! It's Kirsten!
I'm coming to you today to share another very proud moment in my career. As you may know, I had the honour of being showcased on the top-rated, award-winning W series, Undercover Boss Canada.
That humbling opportunity not only rewarded 5 very special employees, it proved to me that the passionate way I conduct business improves the lives of our valued employees, partnered agents and clients alike.
The same producer of Undercover Boss Canada has now brought to television a new 6-part series called "Employable Me".Every member of the Employable Me cast is either living with vision loss or a neurological condition such as Tourette Syndrome, Asperger Syndrome, Down Syndrome or ADHD.
Many of these gifted people have been trying to find work for years – as they struggle to overcome the challenges of their condition, change employers' perceptions and land a coveted job.
At the heart of the series beats a radical new idea emerging in science…Disabilities and neurological conditions should not always be viewed in negative terms.  In fact, many conditions mask talents and skills that employers would find invaluable–if they only took the time to discover them.
"Employable Me" delivers a range of bold, emotional, and personal stories with real purpose in which featured individuals will be judged in terms of what they can do, rather than pre  judged in terms of what they struggle to do.
Heart-breaking and humorous, surprising and life-affirming, "Employable Me" is genuinely life-changing for both our unique job-hunters and the visionary companies willing to take a chance on them.
Flynn International is one of those visionary companies and we are so very proud to share our participation in this documentary and encourage everyone watching this video to open your heart to the possibility of employing someone who clearly is not on your HR's radar.
Check out the trailer and stay tuned for something amazing! Thanks for watching!